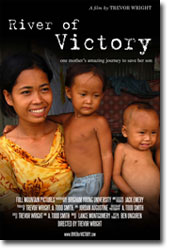 The Rent Collector was inspired by the lives of real people living at the Stung Meanchey garbage dump in Cambodia. A glimpse into their lives was captured when three young filmmakers, all fluent in Khmer, arrived to document the efforts of The Cambodian Children's Fund, a non-profit group that provides assistance to the residents of the dump. While scouting Stung Meanchey, they struck up a conversation with a young mother, Sang Ly, who lived at the dump, and discovered a story of resilience and strength too compelling to ignore.
Over the next several weeks and months, with cameras rolling, the filmmakers tracked Sang Ly's determined fight to keep her ailing 18-month old son alive, while her husband braved the dangers of scavenging recyclables to keep the family fed. When western medicine didn't help the child, Sang Ly convinced her husband that they should journey back to the provincial homeland of their childhood, where she hoped to find answers from the village healer.
In what proved to be more than just a visit to the countryside, the filmmakers captured a rare and shocking encounter between Sang Ly's infant son and the eye-opening methods of the healer. Perhaps more important, they captured the story of a family willing to sacrifice everything to stay together—even if together means living amongst putrid piles of rotting trash.
River of Victory does more than present a mother's determination to save her son, it repeats a truth we all inherently understand—we work and strive with a desire and hope that life will finally offer us a second chance.
The film was recently nominated as one of just five finalists in its catagory (from hundreds of entries worldwide), for the IDA Documentary Awards. (The IDA is the premiere organization for promoting documentary film, with members in 53 countries worldwide.) Copies will go on sale in September, 2012.
To learn more about this amazing film visit www.RiverofVictory.com.