"When I work to support my family, I can hold my head up high and look people in the eye. It offers me hope for the future."
—Sang Ly
---
A portion of the proceeds earned from The Rent Collector help those living at Stung Meanchey.
One of my goals with The Rent Collector was to have it help the family who inspired the story. (I couldn't write a book set in a Cambodian dump and not have it benefit those living there.)
To date, we have paid off a large debt incurred by Sang Ly and her family when Ki's toe was cut off in a garbage truck accident. We also purchased Ki a cart, so that he can work every day. (Before having his own cart, he would borrow one from friends or neighbors, meaning there were days he couldn't work.)
Sang Ly also learned to write her name in English (an amazing experience), and has been helping her family by signing several thousand keepsake bookmarks, which were distributed with initial copies of The Rent Collector.
This not only helped to build her confidence, but it also provided a way she could contribute to the family's income. It took Sang Ly about six months to sign all of the bookmarks, and during that time, she earned more money working at home, just an hour or two each day, still caring for her children, than if she had worked all day long at one of the many garment factories that surround the area. Needless to say, she's been more than grateful.

Realizing that the bookmarks would come to an end, we recently turned our attention to her husband Ki. Since the dump's closure in late 2009, he has picked garbage in the streets of Phnom Penh, earning about $2.50 a day. To increase his earning power, we just purchased a new motorized scooter (moto) that he will use to start a taxi service. (It's a very common way to make a living in Cambodia and Ki is excited for the opportunity.)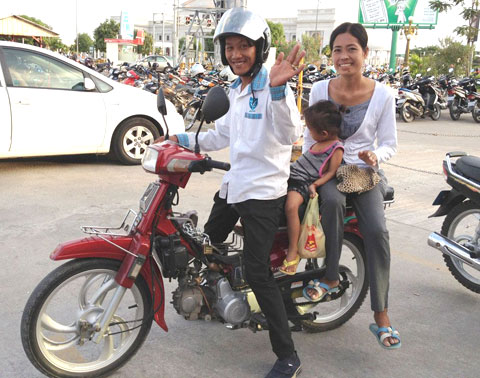 As we continue to help raise the family out of poverty, I would like to thank everyone who has purchased and enjoyed The Rent Collector.
For those who have asked if there are other ways to help, I encourage you to contribute to the Cambodian Children's Fund. They are an amazing charity doing so much good, both to help Sang Ly and her family, but also many other families who live near the dump.
Sincerely,
Camron Wright