What inspired you to write about people who live in a dump in Cambodia?
I first began building the story in my head after my son, a film major, spent time at the Stung Meanchey dump in Cambodia, filming a documentary that followed Sang Ly on her journey.
As a character, I find Sang Ly to be mesmerizing. In truth, after watching my son's footage, I couldn't get her out of my head. That said, I also struggled with how to put her character on paper—and so she, Sang Ly the character, became a burden. It was like she was always there whispering for me to write something, but every time I tried, the story went nowhere.
Then two years ago, just before Christmas, a good friend and business associate who was instrumental in the success of my first book, Letters for Emily, passed away unexpectedly. I was sitting at his funeral when I realized it was time I get serious. I began to work steadily on the story after that, and with some persistence, a dozen months later I had the first drafts of a manuscript ready.
The story is a novel, but you mention that it was inspired by real people. So, what's true and what's not true?
It's a difficult question to answer. Sometimes the events occurred exactly as I described them. Other times, I took separate events (that actually happened), and for the sake of story, wove them into a single incident. Does that make them true or not true? Remember, I write novels. As a whole, the story is fiction--some fact, but cemented together with generous helpings of imagination (though I'm certain the events must have happened to someone somewhere).
My point is that it gets a bit murky trying to dissect. Personally, I wouldn't worry too much about true vs. not-true. As Ernest Hemingway is reported to have said, "All good books have one thing in common, they are truer than if they had really happened." I believe he has a point.
How do we find out more about the real Sang Ly and her family?
I would suggest you get a copy of my son's documentary, River of Victory. (It was nominated for the prestigious IDA awards.)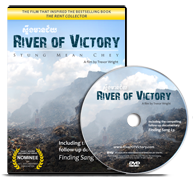 Not only is his original documentary available (the inspiration for my book), but we also traveled back to Cambodia in April of 2012 to find Sang Ly. A follow-up documentary called Finding Sang Ly is included on the DVD as well. For more information on how to purchase, click here.
Who are your favorite authors?
I don't pretend to be a literary snob—I'm not smart enough. Instead I enjoy a wide variety of authors, generally commercial fiction. A few that come to to mind are as follows:
Nick Hornby's early writing. (I'm not as wild about his latest two or three).
The Life of Pi by Yann Martel.
Anything by Mitch Albom.
Anthony Doerr is brilliant, as is Markus Zusak.
While John Grisham often follows a standard formula, he has moments that are intriguing.
Are you working on another book?
If you loved The Rent Collector, you will also enjoy my book The Orphan Keeper. It's based on the amazing true story of Taj Rowland. You can click here to order. Then, in March of 2018, I have a new book coming out called The Other Side of the Bridge.

For additional FAQs, check out Camron's interview on Scripts and Scribes.