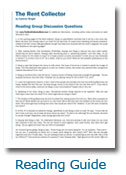 Print the Reading Discussion Questions by clicking the icon to the right. Video comments from the author for several of the questions are included below.
Don't feel like every question with its corresponding video must be discussed. Select only those most appropriate for your group and adapt your group's discussion according to interest.
Also explore the other information specifically assembled for book groups by clicking the menu items to the left.
Spoiler Alert: If you haven't yet read the book, we suggest you do so before reviewing the Reading Discussion Questions or watching the videos below, as they discuss elements of story and plot.

Reading Guide Videos Direct Links